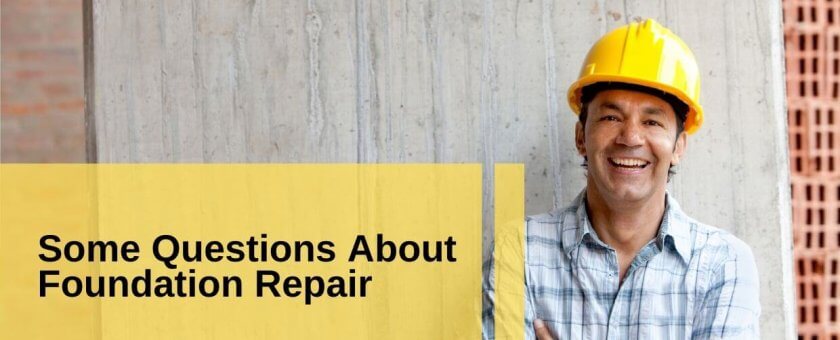 All homeowners and building owners face challenges. The key is to catch any problems before they go too far. Uneven floors, cracked drywall, and water damage… As a homeowner or building owner, these are not signs you want to see. But they do happen, and they're all signs of potential foundation issues.
You've literally built your foundation in your home, so it's normal that foundation issues bring about great concern. Rightfully so, as the foundation of your building is keeping everything upright, sturdy, and safe to inhabit.
If you see any potential foundation issues in your home or building, they should be checked by a professional, reputable company as soon as possible. If left unaddressed, damaged foundations can cause bigger problems, like sinking floors, cracked walls, shifted doorways, and other issues.
How Much Does Foundation Repair Cost in the Area?
Just like any type of home improvement service, there is a range of potential costs that your foundation repair may incur. Costs will depend on whether your home needs a minor foundation repair, like repairing a small crack in the foundation, or a major foundation repair, like those involving concrete or steel piers with hydraulic cylinders.
---
---
Even though repair costs can vary widely, homeowners in the Dallas and Fort Worth areas can estimate that foundation repair will run:
About $4,000-6,000 for an average-sized home. Of course, this amount can be more or less depending on the issue and the size of the building in question.
Major repairs can be double the price, or even more, depending on the amount of materials needed and labor hours required to get the job done right.
On the other hand, repairing small cracks in an average-sized home could be less than $1,000.
Another cost to consider is the possibility that your contractor will recommend getting the professional opinion of a structural engineer. In this case, the engineer will analyze the foundation as well and create a formal report. This process would add a few hundred more dollars to your bill.
The best way to find a fair price on your foundation repair service is to call us at 972-362-1386 and we'd be happy to schedule your inspection and estimate.
Can a house collapse from foundation issues?
The scariest thought a property owner could have is whether or not their house can actually collapse from foundation issues. Typically, foundation issues happen slowly and signs of them show up over time in the form of issues like cracks or bulges in the walls and oddly-fitting doors due to door frame settling. The truth is, wall collapse is possible, but it's not likely to happen if you fix issues as soon as they've been detected. Your home is likely to experience a host of other issues before a wall collapses, like pest infestations and other signs of foundation issues.
Houses do settle over time due to the nature of the soil in which they're built, but a foundation that was properly built should have accounted for these natural changes. Unfortunately though, poor soil compaction, inadequate drainage, and plumbing leaks in the house or building can all attribute to foundation issues that could eventually lead to a wall collapse.
Should you buy a house with foundation problems?
Sure, you can, but plan to fix the foundation promptly. It's not wise to move into a house with foundation problems, as they will only get worse over time and cause more issues. But, if you're not shy about making repairs, buying a house with foundation problems could be a good investment.
Just be sure to look into your options for fixing foundation problems first. You'll save time, money, and worry in the long run.
What is the best foundation repair method?
The best foundation repair method for your property will depend on the type of foundation and what needs to be addressed. A professional will be able to inspect your property to assess the type of damage and recommend the best repair method.
Some common types of repair methods are:
Concrete piers. Used for residential repairs, concrete piers are poured deeply and cured to provide stability. These typically work well for concrete slab foundations.
Steel piers. Steel piers are a reliable solution to permanent foundation repair. These piers are driven down to bedrock, providing permanent stability for the structure.
Helical piers. Helical steel piers are typically used to repair pier and beam foundations and lightweight concrete slab foundations. The process works by threading piers into the ground and transferring the structure to the piers.
Segmented piers. This can be a more affordable foundation repair method for homeowners.
High-density polyurethane foam. This method to repair a sinking foundation can last for up to 10 years.
Can foundation problems be fixed permanently?
While foundation problems are a concern, the majority of foundation issues can be fixed. Of course, depending on the extent of damage and the type of foundation, repair methods and costs will vary.
Be sure that the foundation repair company you hire is professional, and gives you confidence in your decision. Aside from knowing their trade inside and out and giving you an honest price for their services, one of a foundation repair expert's main responsibilities is to give you peace of mind. You deserve to be confident in their ability to fix your property issues correctly to keep your foundation lasting for the long term.
For more information and to schedule your inspection and estimate, give us a call today at 972-362-1386 or email at [email protected].