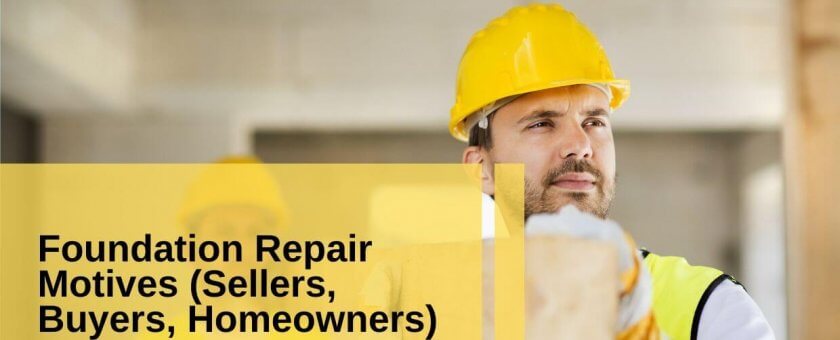 As a foundation repair company we come in contact with many different people who have different motives for their foundation repair needs. In our world, there are sellers and homeowners and then outside of that there are real estate agents and commercial clients. Each has a different motive for why they want a repair to take place on a property.
We will discuss the difference between sellers and homeowners as it relates to fixing issues in the home. Because each of these parties have different motives it's a good idea to understand how those motives work, and to be aware of some of the disadvantages and advantages inherent.
Why a homeowner desires foundation repair
A homeowner wants foundation repair because they've noticed issues in their home that is causing the home to sink, or to have cracks or to exhibit other debilitating factors that reduce the quality after home. This particular group of people wants to fix their home because they are living in it and it is affecting the quality of their life.
When you are noticing cracks, and your house is sinking in one corner, the stability of your home becomes an issue that you think about. Consequently, because this issue is so close to home, the homeowner wants to ensure that the issues are fixed in a way that prevents the problem from growing into something more devastating.
Why a seller desires foundation repair
When you are selling a home, you may be an investor, a homeowner, or another type of seller, but as a seller generally what we've experienced is that the seller is simply wanting to get the issues corrected enough so that the property can be sold. Before a home is sold it generally has to go through inspection, the buyer wants an inspection so that they can feel more confident in their purchase. And so if there are inherent issues, the seller may hire whoever to get the job done to a satisfactory standpoint.
---
---
Quality of work is very important because if the seller hires a poor foundation repair job, and the work is performed simply to meet an inspector's standard. Once issues develop again, and the new homeowner attempts to get a warranty service, because the quality of work was so poor and the company that had performed the work was probably not a real company, they may no longer be in existence, and consequently the warranty becomes void. And the situation there's nowhere to turn to and that's why it's such a challenge. Understanding the motives of each player helps to make an informed decision when as a homeowner, or seller, you're looking at a property.
Explaining the differences in motivations
The differences and motivations as it regards foundation repair simply comes down to the position each player is at. For instance a homeowner is actually living in the home and for the most part, and in general, quite cares for the quality of work. Now not to say that all sellers don't care. However sellers inhabit another position with other motives and that the seller is not living in the home, and wants to sell the home. Before the home can be sold it needs to pass an inspection, consequently the fix, if required will be to meet a threshold.
Bearning all of this in mind, as a buyer, it is important to know who you are buying from and also to perform your own inspection to ensure the quality of work before you buy a property.